Home
Jester-Knight
Literature
Film
Music
Visual Art
Tributes
Submissions
Links
Contact
Literature
Vernon Frazer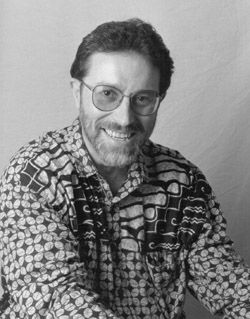 Biography
With a grasp of contemporary idioms that ranges from post-Beat to post-Language poetry and from magical realism to avant-pop fiction, Vernon Frazer explores the terrain "beneath the underground" where mainstream publishers have yet to delve. His poetry synthesizes the Language Poets, the Black Mountain Poets and the West Coast Beat poets into an exciting literary amalgam that defies ready classification. Regardless of the idiom he writes in, Frazer stretches the established boundaries until they bulge with his in-your-face intensity, his gallows humor and his antic sense of play. A writer-musician whose credits include The Poetry Project at St. Mark's Church, the Nuyorican Poets Cafe and the Knitting Factory, Frazer's innovative fusion of poetry with free form improvisation anticipated the now-popular fusion of poetry with music.

Click below for Vernon's work
Endgaming (.pdf)

NEW!!
Whetting Night (.pdf)

NEW!!
Past the Larval Harvest (.pdf)

CXXXIX (.pdf)
Discoveries of the Damned (.pdf)
Furtive Pleasures (.pdf)
Mything Sisyphus (.pdf)
Night at Liberty (.pdf)