Home
News
Jester-Knight
Literature
Theatre
Film
Music
Visual Art
Emerging Artists
Tributes
Submissions
Links
Contact
News



Welcome to the News section!

This is the place where we spotlight what is going on with New Mystics staff, contributors, and friends.

If you have a News item you'd like to share, please submit it to joey@newmystics.com

February 2009

New Mystics is proud to announce the creation of New Mystics Enterprises, a publishing and business venture of New Mystics.



Jester-Knight

, by Joey Madia, is now available! See our new book trailer and order the book here.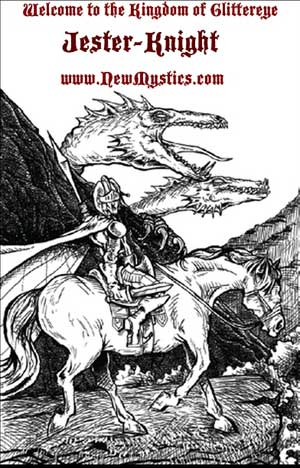 Institute of the Arts

,
1100 Belmont Avenue, Wyomissing, PA, recenrtly presented the world debut of Joey Madia's

King Midas and the BEST HOLIDAY in HISTORY

from November 22–December 27, 2008.

Commissioned by Institute of the Arts, who produced Joey's

Two Mary's, Five Jacks, and One Very Big Shoe

as part of their annual JazzFest for Kids last spring,

King Midas

was one of three plays of Joey's they featured in 2008.

The Other Sherlock Holmes in Hound of the Baskervilles

is being produced with their teen company as well.

New Mystics Reviews
Housed at http://newmysticsreviews.blogspot.com, New Mystics Reviews features independent music and small press book reviews by Joey Madia. Recent reviews include authors Jon Lipsky, Erel Shalit, Lawrence Staples, and Eileen Tabios, and musician Craig Sonnenfeld.

If you are interested in having books or music reviewed, please send an email to joey@newmystics.com

New Mystics Theatre Company
Now in its fourth year of bringing high-quality original plays and interactive anti-bullying workshops to schools, NMTC is proud to announce that it has begun to form a second Company in West Virginia. The New Jersey Company recently added Company Director Ralph Colombino, half a dozen new actors, and a 5-member advisory board.

Actors Playground School of Theatre
Actors Playground School of Theatre is a conservatory style studio that offers the highest level of professional training in acting for all mediums and for all ages. The Playground's friendly and creative atmosphere provides a strong foundation of encouragement and trust that allows its students to challenge themselves uncluttered and free to let their creative imagination run wild. With classes taught by highly qualified and passionate theatre and film professionals, The Playground's curriculum is cutting edge and covers a vast array of subjects, including the styles and techniques of Uta Hagen, Stanislavski, Sanford Meisner, and Michael Chekhov. Camera technique, commercial work, dialects, voice overs, Second City–style improvisation, scene study, auditioning, voice, and movement are all extensively covered at the school. Many of our students are currently working on stage, screen, and television. Classes are 90 minutes in length and are offered Mon thru Sat. Each class is $30, payable monthly. For students who are extremely dedicated, the Playground also offers its conservatory program in which students can come to three classes weekly for $45 a week. Private sessions for enrolled students are always free. 732-935-1800 or www.actorsplay.com



MuseionArt.com


MuseionArt.com is the online home of the visual and audio artwork of N. Pendleton. Along with artwork prints, mass produced consumer art, graphite portraiture, music, illustration, and video art, this digital temple to the Muses is also the home of MuseionCast, a twice-monthly podcast of spokenword fiction.



DanAndRichRadio.com


Started by New Mystics Theatre Company members Dan Cooley and Rich Palmros, this is the site where independent art of all kinds meets online talk radio. danandrichradio.com gives listeners a unique offering of a wide diversity of musical genres, along with plenty of bold discussion about current events, politics, life, books, movies, and celebrity gossip.

You can read more about them here.

Also featured on danandrichradio.com is The Crayon Box. This Web zine is the brain-child of singer/artist Krystle Marie. With Reviews, Blogs, Stories, and Poems from many contributors and of course Krystle Marie!